When it comes to metal garages and carports, maybe you will be in a dilemma of what to choose. To overlook all these dilemmas and give you expert advice, we specially prepared this post. Here we explain a few essential facts about metal garages. This will certainly help you to make the right decision and choose the best option.
About metal garages:
Ceiling Height
For many, the garage option comes into the point for additional ceiling height. Most storage buildings max out at 12' in ceiling height, while large prefab metal garage options can go up to 13' high. Well, you can make even more height garages as per your specific requirements. If your project needs a higher than average ceiling, make sure to evaluate the size of the door. A vertical roof garage provides 12' door options, while most other large storage buildings and prefab garages come standard with 8' doors.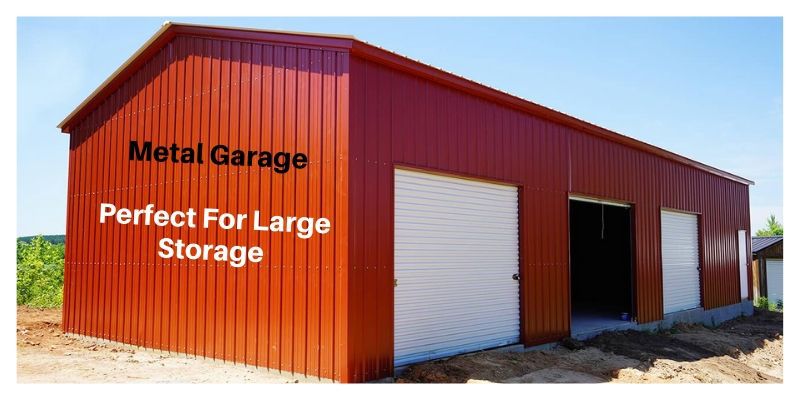 Access
It doesn't matter what the future holds, a garage always makes sure that almost anything will fit – a lawnmower, a car, a 4-wheeler, or large equipment. Not all large storage buildings give access to large equipment; be sure to check the dimensions of all access points before making a final decision.
Custom Interior
Many people prefer a garage over a storage building to customize the interior with electric, insulation, windows, and paneling. If you are thinking of one of these buildings for a home-based business or hobby building, metal garages allow more custom options than just a storage building.
Large Storage Building Benefits
Permits
While many cities, towns, and counties need permits for garages, specifications for the installation of a large storage building may not need an exceptional design review process. What you can do; check with your local zoning office and ask about differences in the permit cost and process for garages vs. storage buildings.

Custom Options
When it comes to large metal building storage, the possibilities are endless. If your local big box stores don't give the right size or style of building, you can use an online building design tool to examine all of the custom options available.
If the garage seems to you for added workspace but you don't require the storage space of a large building, think a pre-fab combo unit. This type of building gives the best of both worlds – storage plus a cover for outdoor projects.
If you need more space with options for extra storage, you may think of a customizable farm building. Even if you don't have farm tools or animals, a farm building may fit your storage demands now and in the future.
Here we wish to include one thing. Before you go ahead and choose the metal garages or metal carports for large storage; Make sure about the following factors:
Size and Equipment Protection. Which building model will give more protection for your equipment?

Resale Value. Which building type will bring your property in line with homes in your area?

Future Use. What does the future hold for your storage space?