Before grabbing up the techniques for building a top-class dream metal barn, you have a specific location to set the horses inside. Note that you are planning to create a dream home for horses so it should be fully-furnished, weather-friendly, portable, and more secure.
In the long run, a well-made barn can save you from everyday repairs and maintenance that costs a lot of whether to fix small issues in a traditional cemented structure. If it is designed and erect properly, the animals will enjoy the pleasant home and become able to breathe in a clean ambiance.
How to construct a horse stall
One of the most important processes in construction is building a steady place that protects the favorite animals from severe weather. Most people even don't know about the material that decides the long span of the property. Have you purchased one of the most popular American-made factory-direct metal barn kits? If not, you should definitely think about it. Because it is easy to install outdoors. Take a look at further elaboration that explains the whole scenario to build a long-term horse barn.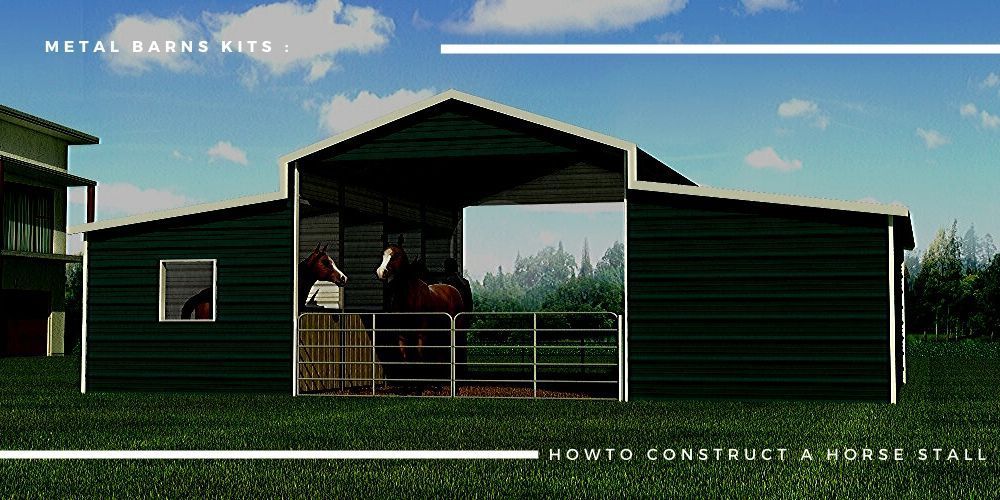 1. Select a suitable location
The regular style barns are the most affordable option that one can assemble into a garden area. It contains a length up to 36' that is good for storing two to four horses. It includes a galvanized coating that is free from rust and corrosion.
Few things to keep in mind:
Good potential for future expansion.

Good natural drainage

Firm & level foundation
The continuous boxed-eave roof barn is bigger in size and provides much space to provide huge shelter for the equine facility. It is available in the standard length of about 36' which is easy to expand for future use. It is ideal for plain floors, grassland, gravel, concrete, or asphalt.
Some important things to make in mind:
Ample space for easy movement.

Close proximity for grass eating.

Comfortable and breathable.
Another one is Carolina raised center aisle that comes with vertically oriented panels and roof systems. It offers ease of assembling several sidewall options, aesthetic color choices, windows, and personnel doors. Thus it should be installed near a lush green garden that lets the horses fresh and airy.
Points to remember:
Flexible enough to create separate rooms.

Adequate airflow to keep the inside foul-free.

Sliding doors to make the barn peaceful.
2. Create a wash bay for daily showering
It is obvious that you want to avoid diseases from the horses and let them dry and clean. Unlike humans, it is necessary to bathe them in a convenient wash bay. There are a few factors that you should consider before making a bathing room for equines.
Durable surface
As the horses have different mood swings sometimes they sit in a very calm position and sometimes not. Similarly, the uneven floors make it difficult for them to stand out for a longer period. Always choose strong custom metal carports to install on gravel that lowers the risk of slippage.
Easy drainage
Make sure the location you select is useful to run off the water from downhills. The messy hair and manure make humans difficult to stand and breathe nearby equine. You should avoid the electrical outlets in wash stalls that are regarded as a deadly combination of water.
Ready for faster erection and searching for cheaper rates in metal buildings? You are at the right place! Metal Carports Direct, the manufacturer of North Carolina offers a wide selection of sheds, shelters, fully-enclosed workshops, RV shelters featuring modular construction, and remarkable delivery and installation on your job site.