The metal garage building is the perfect option for your valuable vehicles. They are customized, affordable, versatile, safe, durable, fire-resistant, spacious and weather-friendly. It enhances the value of the property than ever in all terms. It brings maximum protection compared to other buildings.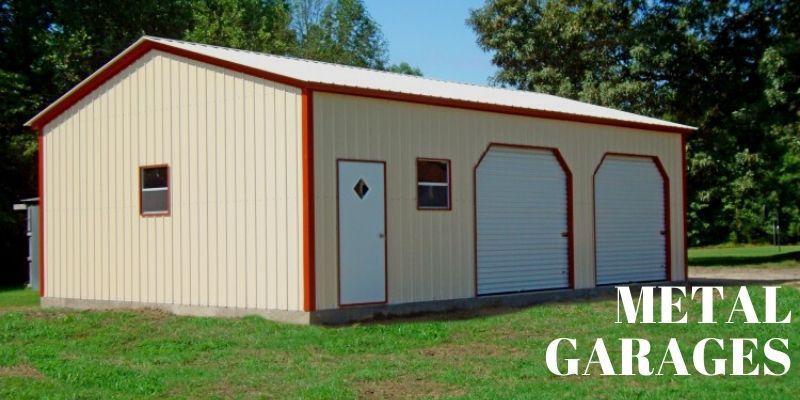 Types of Garages
Three types of metal garages are available in a wide variety that serves every sort of storage need.
1. Regular Style – The regular-shaped steel garages are a convenient option for single or two cars. It provides ample space along with offer huge selection of color choices, building dimensions, door sizes, and windows. It can be used as hobby workshops, farm equipment storage buildings, enclosed RV sheds, backyard lawn equipment storage, etc.
2. Boxed Eave – The box shape roofing is also known as A-frame carports that offer as much space which can alone be given by regular roofs. The main distinction between both of them is their appearance that differs from one another. These are easy to install on concrete, gravel, asphalt, or ground so you can personalize the enclosed metal structure to suit your application.
3. Vertical Roof – It is considered the toughest and strongest building that provides better weather protection as well as adds more strength to the property. The prices may vary according to the size type but still, it doesn't cost high in comparison with wooden carports.
Long Term Benefits of Prefabricated Steel Buildings
Lower maintenance.

Fewer insurance rates.

Affordable remodeling.

High-grade insulation

Fewer foundation issues
One of the greatest things about purchasing prefab metal carports shop buildings, agriculture shelters, metal barns from Metal Carports Direct is the free delivery and installation assistance. Their mission is to provide you with America's best selection of high-quality and most affordable custom structures at your job site.