How to Choose the Right Metal Carport for Your Recreational Vehicles?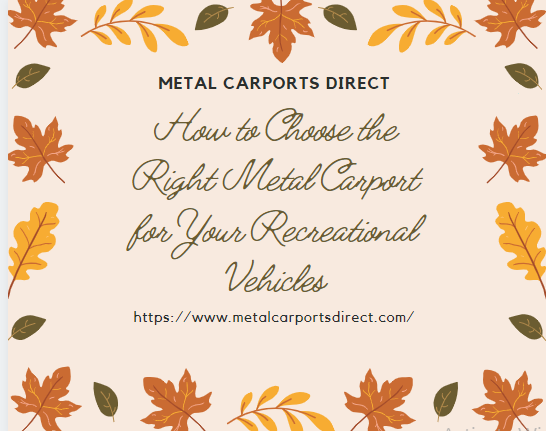 A recreational vehicle is an ideal choice for vacationing along with your family. It gives you full liberty to relish your vacation without worrying about the additional cost of living in hotels. However, you should protect your biggest investment from external damage to keep your maintenance cost down. It is crucial to secure your RV from damage with high-quality metal RV covers. The carport will keep it covered and ensure that you don't face any problems on the road. So now you must be wondering which metal cover will be best for your RV? Well, there are a plethora of choices available in the market. They are available in different sizes and shapes. Here the tips on how to choose eight RV covers for your vehicle.
Know the Primary Purpose of RV Carports:-

Determine if you are looking for a simple carport to cover your RV, or are you looking for more security? This question will help you determine the right choice of carport for your RV. Knowing about the primary use will help you choose the right feature for your carport.

Determine where you will Install the Carport:-

After you have determined your needs, analyze how large area do you need to install the carport. You will require enough level space for the carport cover itself. Also, decide whether you want to install the carport on the ground or on the concrete. If you have a concrete structure on the ground and thinking about installing a carport on it, that is great. If you are thinking to install the carport on the grass that is good too. Selecting area and space before installing is crucial because you want to choose a style and design that fits well according to space.

Choose according to your Design and Style Preferences:-

Metal shelters garages come in different styles and designs. Would you like a frame, regular or a vertical roof style? Or what color do you prefer for your carport? Or would you like to include a custom design in your carport? You can frame a design according to your design and style preferences.